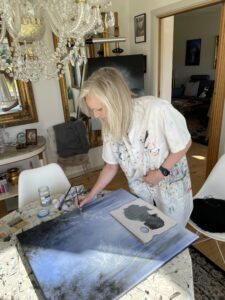 My name is Lise Duun and I was born in Denmark in 1966. 
I started painting with oil in 1984, and I have never taken art lessons.
Inner thoughts and the light of day creates the mood for a new painting.
 Impressions of colors and shapes in nature is the source of my inspiration, but not quite as we know it.
 It is more about creating a special – almost magical – atmosphere or illusion in the paintings.
 It takes a great deal of work and many hours of completion.
 My thoughts and impressions flow down on to the canvas, and as such, not always possible to explain in words.
The paintings are a peculiar blend of naturalism, spirituality and utopia.
They do not preach any kind of religion and they do not moralize.
The process is both a struggle and at the same time a relief of activity and joy.
CV – LISE DUUN
Upcoming exhibitions
Solo exhibitions
Lysets hus, Aarhus, January 2022, Denmark
Djursland Bank, September 2021, Denmark
Galleri Hou, July 2021, Denmark
Galleri RAKLA, Fur, July 2021, Denmark
Skørpings Privathospital, Skørping, Denmark 2019
Kunstforeningen Hjørring Kaserne, Hjørring, Denmark 2019
Kulturhuset KIG IND, Nørager, Denmark 2018
NIRAS, Aalborg, Denmark 2018
           Etc.
Group exhibitions
INTERNATIONAL ART TOUR 2021 with Flyer Art Group:
Rome and Florence from 17th July 2021 to 30th November 2021
WORLD EXHIBITION IN LONDON 2021
From 19th of June 2021 to 24th of October 2021
WORLD EXHIBITION IN NEW YORK 2022
From 15th of June 2021 to 19th March 2022
Gallery Kunstboxen, Mariager, Denmark 2020
Gallery Grevelsgaard, Fausing Denmark 2020
POP UP udstilling, Skien, Norway 2019
Aalborg i farver, Aalborg, Denmark 2019
          Etc.
Associated artist at
Gallery Udsigten, Bakkevej 2, 8471 Sabro, Denmark
SINGULART in Paris
Educations
 Trained office assistant
 Make-Up Artist
Email address: liseduun66@gmail.com
Facebook profile: Lise Duun Nissen Galleriduun
Instagram profile: galleriduun
Participates in the Art Catalogue "La Toscana" issue February 2022, Italy
Participates in the Art Catalogue World Wide Contemporary Art 2021-2023
Took part in Artavita contest "Covid-19" 2020 and was among the finalists